ELECTRO-CHEM ETCH IS EASY WITH ETCH-O-MATIC BECAUSE IT:
Etches into the Surface of Anything made of Metal, including Tools, Instruments, Equipment or Manufactured Parts; Anything that can be Typed, Written, Drawn or Photo Processed on a Special Dura-Film Stencil (Shown Below). And This Can Include Any Designs, Logos, Or Copy You Choose or Even Your Own Signature.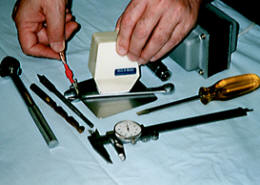 Using an Electro- Chem Etch principle, the New ETCH-O-MATIC can Etch as Deep as .003" of an Inch in Less than 30 Seconds or Mark the Hardest Tool Steel and Carbides almost Instantly. It marks any Flat or Round Metal Surface down to 1/16" Diameter and any Metal Thickness from Thin Foil up to the Largest Castings easily. Most Marks (which look like Printing or Engraving) take about 3 to 20 Seconds (the Longer Dwell Times are for Deep Etching) and are Permanently Etched into the Tool or Manufactured Part.
ETCH-O-MATIC is FAST and EASY TO USE. Anyone in Your Organization can Electro-Chem Etch Metal like an EXPERT in JUST MINUTES and produce Professional Looking Marks Quickly. In Fact, Etch-O-Matic is the Very Easiest Way To Electro-Chem Etch Metal Available Today! You will find that ETCH-O-MATIC is not only the Fastest way to make Permanent Marks on Anything Metal, but is by Far the LEAST EXPENSIVE method on the Market Today. Your Marks will Cost just Fractions of a Cent and You will be Extremely Pleased with the Result.
Here Are Examples Of Electro-Chem Etching Metal That You Can Easily Do In Your Own Shop In Seconds! It Is Easy, Quick, Inexpensive And Professional And Anyone Can Easily Do It!
See a Video of Metal Marking - Click Here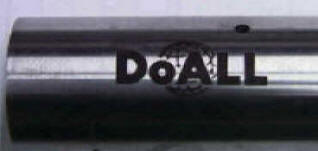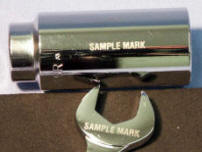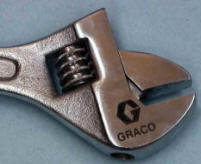 Black Mark In 3 Seconds Deep Etch Mark In 15 Sec. Black On 1/4" Drill Bit (Round To Black Mark In 3 Seconds/p>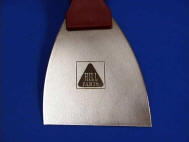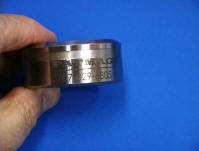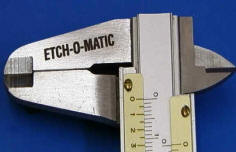 Chem Etch Trademark Hardened Tool Steel Chem Etch Your Tools & Gauges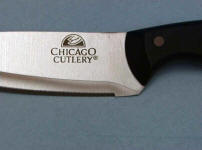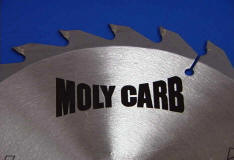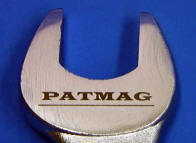 Etches Stainless Steel Easily Etches Saw Blades Deep Etch BLACK Mark
Examples of Electro-Chem Etch Marks:
Etch-O-Matic Makes Four Kinds of Marks

Black Mark
Deep Mark
Deep Black Mark
Frosty Mark
FOR MORE ON:
Electro-Chem Etch Kits, Etch-O-Matic Kits And How Stencils Are Made And Complete Info Plus To See Our LOW PRICED KITS
(Some Starting As Low As $79.95 Complete)
AND TO SEE
TODAY'S SPECIALS!
WHICH Are The BEST Deals Available Anywhere,
---
If You Still Have Questions Just Call Us At 800-775-0797 From 8:00 A.M. To 4:30 P.M. PST.
A Real Person Will Talk With You And Explain Anything You Want To Know. You Can Also..
Fax Us: 1-360-985-2996 or Email Us



P.O. Box 200 / 500 Wilcox Road
Salkum, WA 98582
Email - Click Here
Phone: 1.800.775.0797
Fax: 1.360.985.2996