NOW YOU CAN PERMANENTLY
MARK METAL KNIVES, SWORDS & CUTLERY
WITH YOUR NAME, DESIGNS OR TRADEMARK IN SECONDS FOR LESS THAN ONE CENT PER MARK!
Here Is The Way That Professionals and Amateurs Use
To Commercially Mark Their Knives, Swords & Cutlery.
Take A Moment And Check Out The Complete Information Below That
Explains The Marking System That Is Used Today By Most Knife Makers.
Here Are Examples Of Electro-Chemical Marking That You Can Easily Do In
Your Own Shop In Just Seconds! Now All You Do Is Create Your Own Design,
Logo, Trademark Or Brand Name And Then Put It On Your Blades For Less
Than A Cent Per Mark. It Is Easy, Quick, Cheap And Professional!
And You Can Do This Using The ETCH-O-MATIC And The New Mark 440 Dura-Film
Stencil Maker (As Shown Below) To Create Your Own Trademark Stencils
In Less Than 5 Minutes! Simply Follow The Page On Down And See The
Whole Process Explained In Detail. Here Are A Few Examples To Show
You What You Can Easily Do In Your Own Shop In Just Seconds!
Scroll Down To See How Etch-O-Matic
Works And Then Check Out The Great
SPECIAL OFFERS AT THE BOTTOM!

Marking Knives Has Never Been Easier!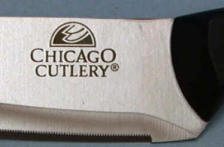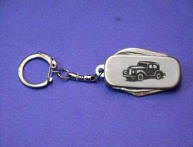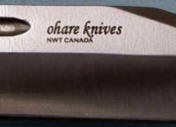 Create Any Design, Trademark Or Brand Name And Mark Your Knives In Seconds!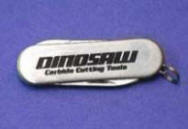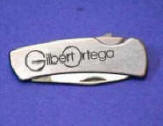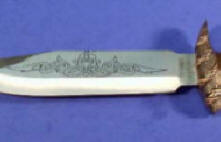 You Can Make Black Marks On Stainless Steel, White Marks On Black Oxide Coatings
And Even Deep Etch Marks Down To About 0.003" That Can Be Clear Or Black.

Here Is A Sword And The Dura-Film Stencil That Was Used To Mark It In 3 Seconds.

Now Mark Swords, Daggers, Knives, Cutlery And Anything Metal Including
Tools, Instruments, Metal Parts And Equipment With Marks You Create In
Just Seconds For Pennies. The Etch-O-Matic Can Be Used In Hundreds Of
Ways For Fun And Profit.
---
Here Is The Quick, Easy And Inexpensive Method Of Marking Knives.
First Make Your Artwork On Your Computer And Make A Stencil As Shown
Below. When Finished It Should Look Like This One.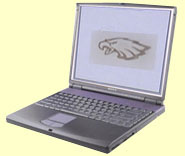 Next Place The Stencil On Your Knife Blade And Use A Small Piece Of
Scotch Tape To Hold It In Position.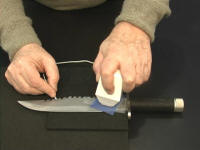 When Ready Wet The Head Of The Etch-O-Matic With Electrolyte And
Place It On The Stencil. After Everything Is Lined Up Correctly Just
Touch The Blade With The Ground Wire (Shown With Alligator Clip)
For A Few Seconds And Your Mark Is Complete.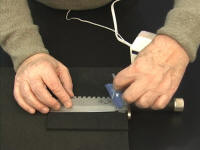 Here Is Your Mark. It Is Black On Stainless Steel But You Can Also Make
Deep Etch Marks Down To About .003" And They Can Be "Clear" Or Black.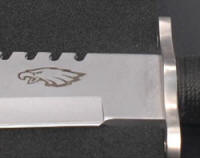 Now You Can See Just How Easy It Is To Put Your Own Mark On
Your Knives...Or Even Personalize Them For Your Customers.
---
Now Let's Talk About Stencils. You Have Several Options. In Each
Etch-O-Matic Kit There Is A Package Of Stencils. The Ones That Come
In Each Kit Are Called "Die Impressed" Which Simply Means They Are
Prepared By Using A Typewriter Or Dot Matrix Printer Like The Sample
Shown Below. This Is Quick, Easy And Cheap As You Can Do It Yourself
If You Have A Typewriter In Just Minutes. The Marks Made By This System
Will Look Just Like You "Typed" In Black Letters On Your Knife. If That Is
Good Enough For You Then Go This Route. Otherwise You Can Make Your
Own Dura-Film Stencils As Shown Below Or Even Send Us Your Artwork And
We Will Make Them For You. Contact Us By email, Fax or Phone For This.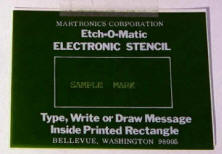 Sample Of Die Impressed Stencil That Comes In Each Kit Shown Above.
We Have Typed "SAMPLE MARK" To Show You How It Would Look.
---
LEARN HOW TO MAKE YOUR OWN
DURA-FILM STENCILS
IN MINUTES IN YOUR OWN SHOP
Here is How You Make Your Dura-Film Stencils In About 3 Minutes.
(NOTE: We Are Using Large Type So It Will Photograph Easily.)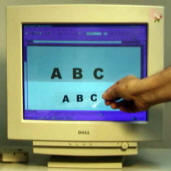 First Make Your Copy On Your Computer. Here Is A Simple A B C Made Large
To Show In The Photo. You Can Make Any Line Drawing, Logo, Trademark
or Simple Message You Wish. There Is Not Much Limit Except Photo's Are
Difficult And Very Thin Lines Are Hard To Mark.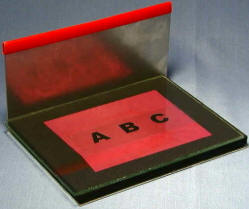 Next Print Out Your Copy On A Transparency (Which Comes In The Kit)
And Place The Transparency Copy On A Piece Of Unexposed Dura-Film
Stencil (Which Comes In The Kit) And Finally Place A Glass Plate On Top.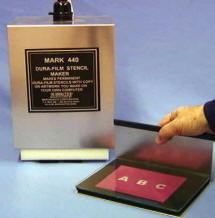 Next Place Tray In The 440 Dura-Film Stencil Maker And Turn On Exposure
Unit For About 3 Minutes.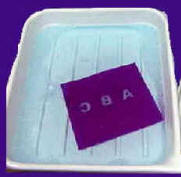 Next Remove Stencil And Develop For 30 Seconds To A Minute.
Stencil Is Then Ready To Use To Mark Your Knives Or Anything Metal.
Here We Are Marking A Saw Blade Since It Is Large Enough To Make A Good
Photo. You Simply Lay The Stencil On The Blade, Wet The Etch-O-Matic Pad
(On Bottom) With Electrolyte, Then Place The Etch-O-Matic On The Stencil, Ground
For A Few Seconds And Then Remove And Your Blade Is Permanently Marked.
---
HERE ARE THREE KITS THAT ARE ON SPECIAL
WITH THE 440 COMBO KITS LISTED BELOW!