GROUND PLATE MARKING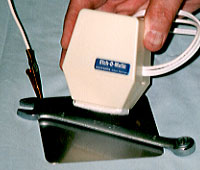 MARKING WITH GROUND PLATE — Simply Lay the Tool or Part on the Ground Plate and Touch ETCH-O-MATIC to it for a Few Brief Seconds and Your Mark is Permanently Etched Into the Surface.
ROUND SURFACE MARKING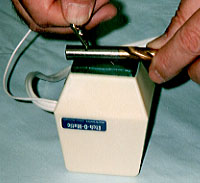 MARKING ROUND SURFACES — Drill Bits, Milling Cutters, Tubing, Pipe or nearly anything Round can be Easily Marked by "Rolling" the Mark on as Shown Above.
MAKE DEEP ETCH MARKS


MAKES DEEP ETCH MARKS— ETCH-O- MATIC Marks many Metals as Deep as .003" with Deep Etch Adapter Clip, a Mark that can only be Removed by Grinding a Major Part of the Surface Away.
If it is Made of Metal
ETCH-O-MATIC
Can Mark It And Even
Put Your
TRADEMARK
On It In Just Seconds!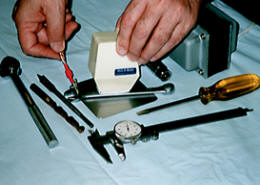 ETCH-O-MATIC TOOL MARKING IN SECONDS...

MARK METAL SURFACES — ETCH-O-MATIC will Etch into the surface of Anything made of Metal, including Tools, Instruments, Equipment or Manufactured Parts, anything that can be Typed, Written, Drawn or Photo Processed on a Special Stencil. This includes Names, Numbers, Designs, Logos, Trademarks or even Your Own Signature. Using an Electro- Chemical principle, the New ETCH-O-MATIC can Etch as Deep as .003" of an Inch in Less than 30 Seconds or Mark the Hardest Tool Steel and Carbides almost Instantly. It marks any Flat or Round Metal Surface down to 1/16" Diameter and any Metal Thickness from Thin Foil up to the Largest Castings easily. Most Marks (which look like Printing or Engraving) take about 3 to 20 Seconds (the Longer Dwell Times are for Deep Etching) and are Permanently Etched into the Tool or Manufactured Part.
FAST AND VERY EASY TO USE!
ETCH-O-MATIC is FAST and EASY TO USE. Anyone in Your Organization can become an EXPERT in JUST MINUTES and produce Professional Looking Marks Quickly. In Fact, Etch-O-Matic is by Far the Very Easiest Marking System to Learn that is Available Today! Also, You will find that ETCH-O-MATIC is not only the Fastest way to make Permanent Marks on Anything Metal, but is by Far the LEAST EXPENSIVE method on the Market Today. Your Marks will Cost just Fractions of a Cent to Produce and You will be Extremely Pleased with the Result.
COMPARES WITH LASER MARKS
Most Marks will Compare Favorably with Laser Marks on Metal and are Easier and Sometimes Even Faster to Make. In Fact You have Seen Marks made by Etch-O-Matic hundreds of times before but probably did Not Realize it since the Marks are Used so often in Commerce Today. If you have ever seen a Feeler Gauge, Drill Bit, Milling Cutter, Saw Blade, Knife Blade, Ball Bearing Race, Carbide Cutter or Thousands of other types of Metal Tools, Parts, Instruments or Equipment then You have probably seen Marks made by Etch-O-Matic. In fact, we have Marks in a good Percentage of all of the Cars, Trucks, Commercial and Military Aircraft, Submarines, Hospital Surgical Instruments and Implant Devices and we even have Marks in the Nose Cone of the Space Shuttle. (Yes, NASA called and said that they used an Etch-O-Matic to Mark an Inspection Date and Number in the Nose Cone of the Space Shuttles.)
BASICALLY, THE ETCH-O-MATIC TOOL MARKING SYSTEM has been Proven Over and Over again during our 36 Years in Business as the Best and Least Expensive Way of Permanently Marking Tools.
---
EXAMPLES OF ETCH-O-MATIC MARKS
ETCH-O-MATIC MAKES FOUR KINDS OF MARKS




---
HERE IS TOOL MARKING IN SECONDS:
Here Is The Quick, Easy And Inexpensive Way To Mark Your Tools Or Parts.
First Make Your Artwork On Your Computer And Make A Stencil As Shown
Below. When Finished It Should Look Like This One.
Next Place The Stencil On Your Tool, Part or Knife Blade And Use A Small Piece Of
Scotch Tape To Hold It In Position.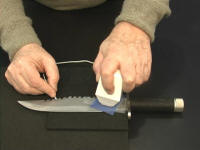 When Ready Wet The Head Of The Etch-O-Matic With Electrolyte And
Place It On The Stencil. After Everything Is Lined Up Correctly Just
Touch The Blade With The Ground Wire (Shown With Alligator Clip)
For A Few Seconds And Your Mark Is Complete.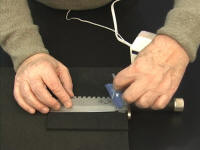 Here Is Your Mark. It Is Black On Stainless Steel But You Can Also Make
Deep Etch Marks Down To About .003" And They Can Be "Clear" Or Black.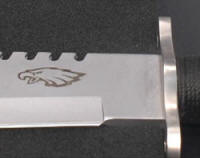 Now You Can See Just How Easy It Is To Put Your Own Mark On
Your Knives...Or Even Personalize Them For Your Customers.
---
TYPEWRITER STENCILS
Now Let's Talk About Stencils. You Have Several Options. In Each
Etch-O-Matic Kit There Is A Package Of Stencils. The Ones That Come
In Each Kit Are Called "Die Impressed" Which Simply Means They Are
Prepared By Using A Typewriter Or Dot Matrix Printer Like The Sample
Shown Below. This Is Quick, Easy And Cheap As You Can Do It Yourself
If You Have A Typewriter In Just Minutes. The Marks Made By This System
Will Look Just Like You "Typed" In Black Letters On Your Knife. If That Is
Good Enough For You Then Go This Route. Otherwise You Can Make Your
Own Dura-Film Stencils As Shown Below Or Even Send Us Your Artwork And
We Will Make Them For You. Contact Us By email, Fax or Phone For This.
Sample Of Die Impressed Stencil That Comes In Each Kit Shown Above.
We Have Typed "SAMPLE MARK" To Show You How It Would Look.
---
HERE IS HOW TO MAKE YOUR OWN
DURA-FILM STENCILS
IN MINUTES IN YOUR OWN SHOP
Now You Can Make Your Own Dura-Film Stencils In About 3 Minutes.
(NOTE: We Are Using Large Type So It Will Photograph Easily.)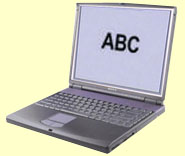 First Make Your Copy On Your Computer. Here Is A Simple A B C Made Large
To Show In The Photo. You Can Make Any Line Drawing, Logo, Trademark
or Simple Message You Wish. There Is Not Much Limit Except Photo's Are
Difficult And Very Thin Lines Are Hard To Mark.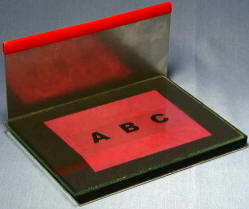 Next Print Out Your Copy On A Transparency (Which Comes In The Kit)
And Place The Transparency Copy On A Piece Of Unexposed Dura-Film
Stencil (Which Comes In The Kit) And Finally Place A Glass Plate On Top.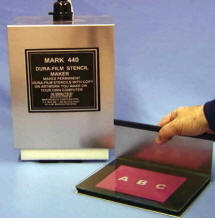 Next Place Tray In The 440 Dura-Film Stencil Maker And Turn On Exposure
Unit For About 3 Minutes.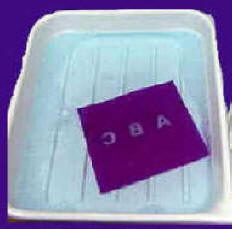 Next Remove Stencil And Develop For 30 Seconds To A Minute.
Stencil Is Then Ready To Use To Mark Your Tools, Parts, Knives Or Anything Metal.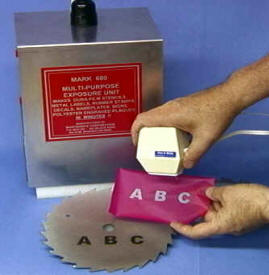 Here We Are Marking A Saw Blade Since It Is Large Enough To Make A Good
Photo. You Simply Lay The Stencil On The Blade, Wet The Etch-O-Matic Pad
(On Bottom) With Electrolyte, Then Place The Etch-O-Matic On The Stencil, Ground
For A Few Seconds And Then Remove And Your Blade Is Permanently Marked.
---
HERE ARE THREE TOOL MARKING KITS
THAT ARE ON SPECIAL
WITH THE 440 COMBO KITS LISTED BELOW!